When you run into browser issues like error messages, slow loading times, and outdated versions of frequently visited web pages on your iPhone, your browser history could be to blame. The fix is usually as simple as clearing history from the browser. This quick guide will walk you through how to clear Google history on iPhone to enhance the performance of Google apps. The article will focus exclusively on how to clear search history on iPhone.
How to Clear Google Chrome History on iPhone in 9 Easy Steps
It's actually quite simple to clear history on iPhone. The Google Chrome app will allow you to choose which data to clear from your iPhone. This data includes saved passwords and other login information, temp files, and browsing history. You can choose to clear search history from your iPhone, or to delete everything all at once. Regardless of which option you go for, these are the basic steps to clear history from your iPhone:
Launch the Google Chrome app.
Tap the menu button. The Chrome menu button is represented by three horizontal lines. You can find it at the top of the screen, next to the URL bar.
Select Settings from the menu.
Choose the option for Privacy.
Select Clear Browsing Data.
Check or uncheck options to determine what you what browsing data you want to clear. By default Browsing History, Cookies, Site Data, and Cached Images and Files are selected. To delete search history on iPhone, choose Browsing History. 
Choose Clear Browsing Data once you've selected the information you want to delete. 
Tap Clear Browsing Data in the confirmation box.
Select Done to exit the menu.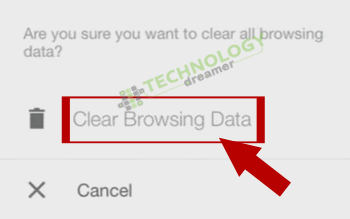 Keep in mind that these instructions show just how to clear Google history on iPhone. Saved password, temporary files, cached images, and cookies will not be deleted. If your phone is still slow, consider removing everything.
How to Clear Google History on iPhone in 7 Easy Steps
You can also clear the search history in the Google Search application on an iPhone. This process will remove the history of searches from your phone. However, it does not impact any search history saved to Google if you are not logged into your Google account. This means when you access your computer, your Google search history will be the same. If you want to learn more about how to clear history on other devices, you can take a look at our article on clearing Chrome cache. Take the following steps to clear Google history in the search app:
Launch the Google app.
Tap the gear icon in the upper left of the screen to launch the Settings Menu.
Select Privacy from the menu.
Choose History.
Select Clear on-device history.
Tap CLEAR ON-DEVICE HISTORY in the confirmation box.
Select Done to exit the menu.
These easy instructions show you how to clear Google history on iPhone, which improves browser and search performance and protects privacy. Google offers Chrome Help for iOS, and Apple has Apple Support for Apps to assist you with any issues clearing your Google history. To share your experience with this or ask questions about the process, see the comments below.