*This post may contain affiliate links. As an Amazon Associate we earn from qualifying purchases.
If you no longer want to use or be listed in Kik's instant messenger service, it is possible to delete your account fairly easy. Deleting your account will stop you from receiving notifications, remove your username and other user data, and make your account unavailable for search. The following instructional guide will show you how to deactivate Kik account.
How to Delete Kik Account in 9 Easy Steps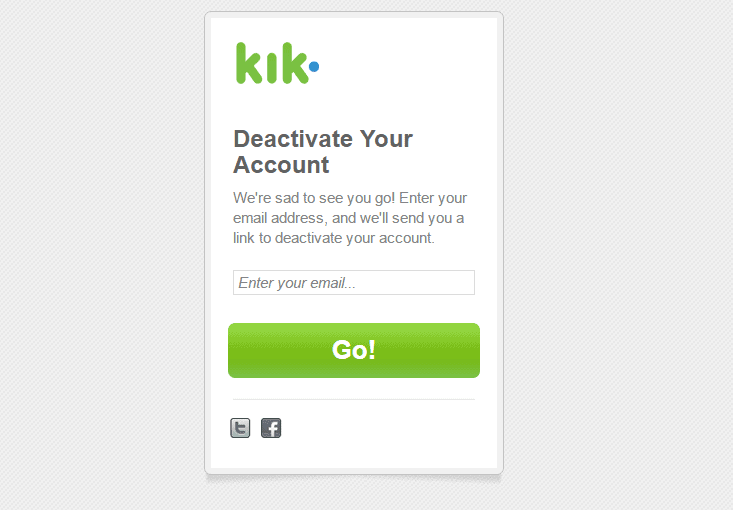 To deactivate your Kik account you have to go through multiple steps. You will need access to the email associated with your Kik account. If needed, update your email in the Kik application before completing the deactivation procedure. The following step-by-step guide will provide you with the instructions you need to log out of your account and deactivate Kik:
Launch the Kik application on your device.
Tap to select Settings.
Choose the Your Account option from the Settings menu.
Select either Log Out or Reset Kik depending on the version of the Kik application you have installed.
Navigate to the Kik Deactivation website at https://ws.kik.com/deactivate once you have successfully logged out of Kik.
Enter the email address associated with your Kik account in the Enter your email … field.
Click the green Go! button.
Access your email and locate the email sent from Kik.
Click the link in the email to complete the account deletion process.
Once you confirmed your decision by accessing the email sent by Kik, the deactivation process is complete. This handy step-by-step guide includes all the information you need to deactivate Kik and remove all of your account information. If you do not receive the deactivation email, check the application to confirm you have the correct email address associated with the account. Further assistance is available on the Kik Help Center, or you can ask questions or share comments below.