*This post may contain affiliate links. As an Amazon Associate we earn from qualifying purchases.
PacMan is one of the most known games ever made, with fans all over the world. To celebrate this, on its 30th anniversary, Google decided to make the game available to everyone in the world as a doodle. All you have to do to relive your memories of the game is to follow our guide on how to play Google PacMan.
Our guide features a set of easy to follow instructions that will enable you to play the game using a doodle or using app for Android oriOS.
How to Play Google PacMan as a Doodle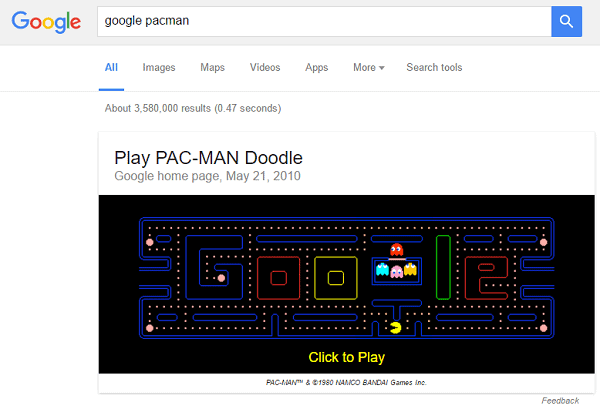 This is the easiest and fastest way to play a game that is over 35 years old. The method works on any computer device, no matter its performance specs. As long as it has a keyboard with functional arrow keys, you will be able to play PacMan.
Follow the next steps to play Google PacMan:
Start your browser of choice.
Go to Google's search page.
Type in 'google pacman' in the search box.
The first result will be the Google Pacman doodle.
Press 'Click to Play'
Control PacMan with your arrow keys.
If you haven't played the game before, the main goal is to eat all the dots spread throughout the level course without being hit by the ghosts chasing you. When you eat the fruit you are able to eat the ghosts instead. They will respawn after a short while so hurry and collect all the dots.
If you want to Google PacMan in fullscreen then follow this link. It's the same standard version of Pacman we all know and love, just on a bigger format.
In 2015, for April Fool's Day, Google decided to allow users of Google Maps to play PacMan on whatever location they desired. Unfortunately, this feature isn't available anymore but maybe it will come back on a future anniversary of the game.
If you want to play the game on your portable device, then go to the next section of our guide.
How to Play PacMan on Android or iOS Devices
It isn't at all surprising that PacMan, once a hugely popular game, has various versions available on various platforms even in this age. However, the following instructions will refer only to games that are the same as the initial version.
All you have to do to play PacMan on your tablet or phone is to:
Go to the App Store for Apple devices or Play Store for Android devices.
Search for PacMan.
Install the first app from the search result.
Wait for the download and install to finish.
Enjoy your game.
The game is completely free on both platforms so you don't have to pay a cent for a great nostalgic experience.
Conclusion
This concludes our guide on how to play Google PacMan on both computer and portable devices. Both ways are very accessible and can be followed by anyone.