*This post may contain affiliate links. As an Amazon Associate we earn from qualifying purchases.
Even though Windows 10 has been here for quite a while, there still are a lot of people who haven't yet updated to the newer OS version. Regardless of what causes this, people still using older operating systems do occasionally need some support. One of the most frequently approached topics is how to backup windows 8.1.
Perhaps the biggest problem with Windows 8 and Windows 8.1 is how it got rid of some of Windows XP and Windows 7's intuitive and user-friendly features. Most people who knew how to backup Windows 7 and how to backup Windows XP found themselves unable to do the same for 8 and 8.1. This is what drove most people away from the OS.
Still, there are a number of ways to back up your system, and some are easier than the others. While Windows 8 and 8.1 are certainly not as bad as Vista, many users still need external help performing a number of operations. So, here is how to backup windows 8.1. For those interested in how to backup windows 8, they can use most of the same techniques.
Just Restore or Refresh your PC
Only use these options if you don't want or need a full system reinstall. Your computer does occasionally need a full system reset, but it's usually pretty easy to tell when. It generally has to happen when you start noticing registry trouble, driver issues, and even hard drive errors. Drivers can go bad, registries can get corrupted, and you could lose a lot of data if you don't pay attention to these warning signs.
Before you start restoring or refreshing your system, you do need to make a few quick backups just in case something goes wrong. The most important part is that you might need the thumb drive or the disk which came with your version of Windows. If you're missing those, contact Microsoft Support.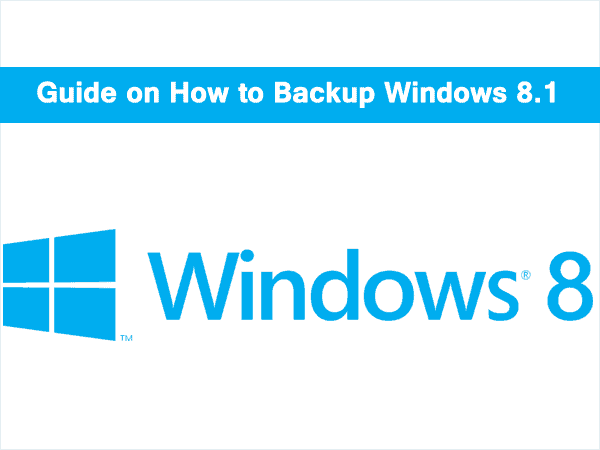 Refresh your PC
Move your mouse cursor to the right edge of the screen, to either the top or the bottom corner
Swipe the cursor up or down
Click on Settings
Click on Change PC Settings (at the bottom of the screen)
Wait for the new menu to appear (if it doesn't, just click once)
Click on Update and Recovery
Click on Recovery
Look for the Get Started option under the Refresh your PC without affecting your files option
Follow your computer's instructions
Please take into consideration that if you updated from Windows 8 to Windows 8.1, you might be reverting to Windows 8. You will need to go through the Windows update once again after the system refresh is finished.
Interestingly, your files and the apps that were installed along with your edition of Windows will be saved, while some of the apps, programs, and software that you installed from different sources will be removed. You will also have to reinstall your Windows updates.
Restore your PC to a Previous Point in Time
Move your cursor to the right corner of the screen (either top or bottom)
Swipe the cursor upwards or downwards
Click on Search
Write Control Panel in the Search box
Enter the Control Panel
Write Recovery in the Control Panel Search box
Click on Recovery
Click on Open System Restore
Follow the instructions on the screen
This option doesn't mess with any of your personal files or folders either, although it does remove all apps and programs installed after the restore point. Additionally, System Restore isn't available for Windows RT 8.1 users. For them, Windows tends to create an automatic restore point after every system update, with a window of opportunity of up to seven days.

How to Backup Windows 8.1 by Saving and Restoring your File History
If your PC has bigger problems and you're sure that you need a full system reinstall and all the works, here is my advice on how to backup windows 8.1. But before you do that, you have to first have to set up a drive for File History. Otherwise, you will have to save your home or work files to a thumb drive, portable hard disc, or a cloud storage service such as OneDrive.
How to Set Up your File History Drive
Connect an external drive to your PC (if it's new, follow steps 2 and 3; otherwise, move to step 4)
Click on the notification asking you if you want to configure File History
Turn on the File History
Move the cursor to the upper right or upper left corner
Swipe up or down
Click on Search
Type File History Settings in the Search box
Click on File History Settings
Click on Select a drive
Choose the external drives, disks, or network domains you want to use
Turn on File History
You now know how to backup Windows 8.1. Users hoping to use a network drive might benefit from the following note: On occasion, you might not see your network drive in the list of available drives. If that is the case, then you can click on Show all network locations. If the drive still isn't there, go to Control Panel, then to File History, and click on Add a network location. Then, follow the instruction on the screen.
Another useful note is that this procedure only backs up the files that are present in your Desktop, Documents, Pictures, Music, and Videos folders. You can simply move your files in any of those folders, and you'll have a back-up once you finish setting up your File History.
You can just as well use your phone as a backup drive, although you might have some trouble when attempting to use an iPhone. You can even back up your Windows live mail account in a very similar manner to how to backup Windows 8.1.

Using File History
Make sure that you have a set File History Drive
Make sure that your File History is turned on
Move your cursor one of the right-hand corners of the screen
Move the cursor up or down
Type restore your files into the Search box
Press Enter
Click on Restore your files with File History
Select the files and folders you want restored
Click on the Restore button
By right-clicking the Restore button you can select the Restore To option, which will allow you to choose the location where you want your files to be restored. Otherwise, they will be restored in the same folder from where they were saved in the first place.
Once your File History is set up, you can view your files at any time as they will be saved for good until you decide they should go. You can also very easily choose which version of the file you want to be restored, be it a recent one or an older, less modified version.
I really hope that we've managed to teach you how to backup Windows 8.1. If none of the methods above please you, you can always just save all the information you want on a different drive and then copy it back after the Windows installation is complete.
Please come back soon, as we're eventually going to approach some of the most requested topics, such as how to backup Windows Server 2012, how to backup MySQL database Windows, and how to backup Domain Controller Windows 2003. Only your feedback can help us generate the most useful and needed content.
Image sources: 1, 2