*This post may contain affiliate links. As an Amazon Associate we earn from qualifying purchases.
If you are no longer using your current POF account, you may want to consider deleting your POF account. Once you have deleted your POF account, you will no longer be able to access it, nor the information you had stored there.
Read Below How to Delete Your POF Account or Close POF Account
If you are not sure you are ready to delete your POF account or close POF account, you have the option to hide your POF profile. In this guide, we will explain how to delete POF account and how to hide your POF profile.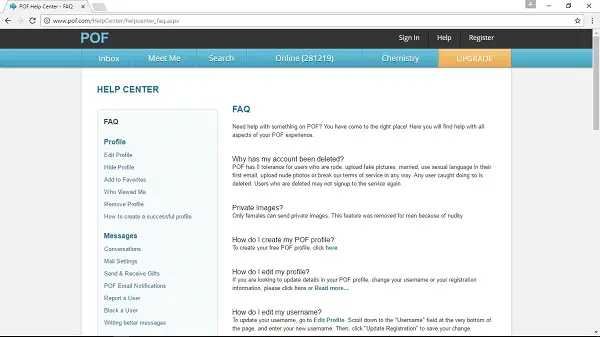 How to Delete POF Account in 8 Easy Steps
Follow the next easy steps to remove your account from the Plenty of Fish dating site:
Go to the POF website, www.pof.com
Complete the POF login procedure using your password and username.
Go to the Delete Account section to begin the procedure.
Scroll to the bottom of the page.
Click on the To delete your account CLICK HERE message.
Re-type your POF login credentials again and give your reason for account deletion.
Check the number of POF dates you had and explain if you would recommend the site.
Finish the process by clicking the red "Quit/Give Up/Delete Account" button.
Once you delete POF account, you will have to option of completing a short survey regarding your experience using POF. You can skip the survey if you wish.
How to Hide your POF Profile in 5 Easy Steps
In the previous section, we talked about how to delete POF. Once you delete POF account, you will no longer be able to reactivate it. Any subscriptions and upgrades you had will be lost. So, if you're still considering whether you should delete POF, or whether you just want to take a break, consider hiding your POF profile. If your POF profile is hidden, nobody will be able to see the information you posted. You can unhide it if you decide to start using your POF account. Below, we will show you how to hide POF profile without deleting it.
Go to the POF website.
Just as before, use your POF login credentials to reach your account.
Go to the Edit Profile section of your account.
Under the tabbed menu, click the link next to:"To hide your profile from others, click here"
With the last step completed you managed to hide your profile. You resume your activity on the site at any point you want. If our guide on how to delete POF account didn't work out for you, then we recommend contacting the company's customer service at [email protected] via email. Request that they close your account permanently. You will have to include a link to your profile and your name to know what account you are referring to.
How Do I Delete POF: Conclusion
Hopefully, now you have a better understanding of how to delete POF account and how to hide POF profile. If you are still having trouble, you should contact the POF help center for further info on how to delete POF. Keep in mind that once your account is deleted you won't be able to recover it. You can only make a new account using the same email.