*This post may contain affiliate links. As an Amazon Associate we earn from qualifying purchases.
Using Snapchat photos can lead to awkward situations, so many users decide they want to delete their Snapchat account for good. Snapchat makes it easy to deactivate your account, and after 30 days of deactivation without logging in, the company will remove your account permanently. Our article will show you how to delete your Snapchat account from any device.
How to Delete Snapchat Account on a Computer in 7 Easy Steps
1. Go to the Snapchat login page directly reach Snapchat's account deletion page.
2. Type your username and password into the appropriate fields.
3. Confirm that you are not a robot with the reCaptcha test, and then click the "Log In" button.
4. Read the information about Snapchat account deletions.
5. Enter your username and password again to confirm your identity.
6. Click the yellow "Continue" button.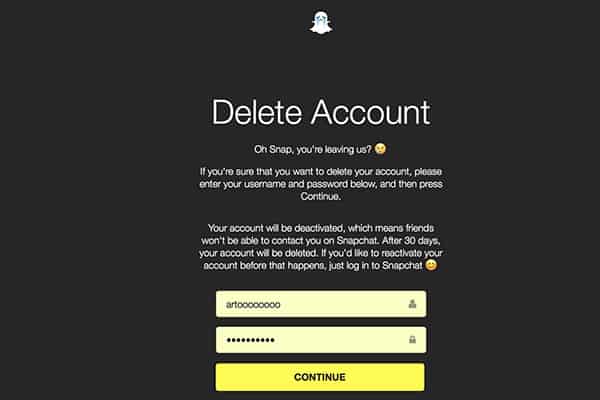 7. Avoid logging into your account for 30 days to permanently remove all information.
How to Delete Snapchat Account on a Smartphone in 7 Easy Steps
1. Open your Snapchat app and click the ghost icon in the upper corner of the Snapchat homescreen.
2. Click on the gear icon to reach the settings area and then choose the "Support" option.
3. Enter the phrase "Delete my account" into the search bar.
4. Type in your Snapchat password to confirm your identity.
6. Click the "Delete My Account" button if you are sure you want to delete your account.
7. Remove the app from your phone and do not login to your account on a phone or computer for the next 30 days.
During the 30 day waiting period, you can reactivate your account even though no one can contact you during this time. However, after the 30 days, you cannot recover your account. If you have any more questions about how this process works, you can fill out the Snapchat Support form.