*This post may contain affiliate links. As an Amazon Associate we earn from qualifying purchases.
Your Facebook account contains a lot of personal information, such as statuses, photographs, videos and more. If you ever decide you no longer want to use your Facebook account, there are two things you can do. You can either deactivate it or permanently delete Facebook account. When you deactivate your account, your personal information will remain on Facebook servers but it will not be visible to others. When you delete your account, the information contained there will be deleted as well. In this guide, we will focus on how to permanently delete Facebook.
How to Delete Facebook in 10 Easy Steps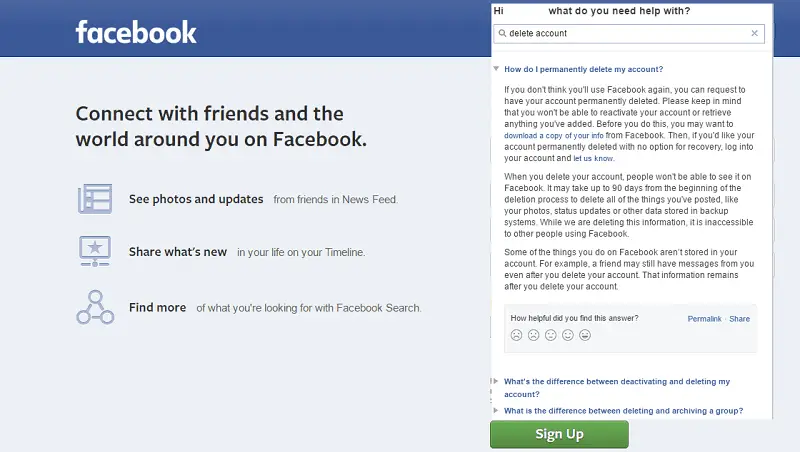 This part of our article focuses on the basic steps you need to follow to delete your Facebook account. Some of these might be similar to the ones you would take to deactivate your Facebook account. In both cases, your Facebook information will no longer be available to the public. However, if you deactivate Facebook account, the information is still there, even though nobody can see it. You can easily reactivate your account by logging into Facebook.
If you decide to delete Facebook account, your information will be permanently removed from Facebook in about a month. You will not be able to access your account, nor can you retrieve any of the information once it has been deleted. This is how to delete Facebook account:
Navigate to Facebook at www.facebook.com.
Type your Facebook login information in the designated fields.
Click Log In.
Click on the small arrow in the right corner of the screen
Choose Settings. From the General tab, you can click then click to Download a copy of your Facebook data if desired. This will allow you to save the information stored on Facebook. Remember, once you delete Facebook, you will no longer be able to retrieve this information.
Click Help to access the help search.
Type "delete account" into the search box and click the search icon.
Select How do I permanently delete my account?.
Choose Let us know.
Click the Delete My Account button. You may be prompted to confirm your decision.
How to Delete Facebook using your Mobile Device in 7 Easy Steps
You can also permanently delete your Facebook account using the application on your mobile device. The following step-by-step guide will walk you through the process:
Launch the Facebook application on your mobile device.
Select the menu option in the upper right of the screen.
Choose Help Center from the menu.
Type "delete account" into the search box and click the search icon.
Select How do I delete my account? and then the let us know link.
Enter your Facebook password when prompted.
Tap Submit to complete the process.
This is basically how to delete Facebook. Facebook indicates it may take up to 90 days for everything to be deleted although it is immediately removed from view on their site. You can locate additional support using Facebook's Help Center. Feel free to ask questions or share your experience below. Bear in mind that some information might not be removed from Facebook if it is not stored on your account. This includes messages and shared information