*This post may contain affiliate links. As an Amazon Associate we earn from qualifying purchases.
Zipped files are one more files that have been combined and compressed into an archive in order to reduce their size or number. There are many types of archived files such as 7z, RAR, Zip, and more. To discover how to unzip files on Windows, you can either install third-party software for older versions of Windows such as XP, Vista, and 7; or use the native application that comes with Windows 8, 8.1, and 10.
How to Unzip a File in Windows Vista, 7, XP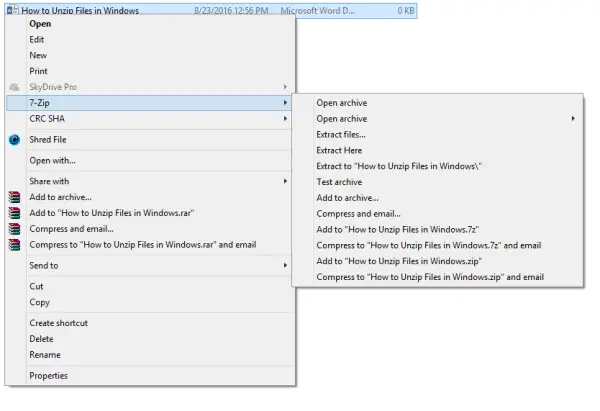 To start unzipping files on Windows.  We recommend installing 7-Zip since it's easy to install, simple and free to use. It supports almost all versions of Windows and provides packing and unpacking options for a lot of different archived files.
Follow these steps to unzip a file in Windows:
Go to 7-zip.org.
Download the version of 7-Zip that matches your version of Windows.
Install 7-Zip wherever you want.
Go to the zipped files on your PC.
Open the right-click menu.
Select the 7-Zip tab.
Select Extract files if you want to select a specific destination for your decompressed files.
Introduce the password if the file is protected by one.
Select Extract here to unzip the files at their current location.
You just learned how to unzip files on Windows using third-party software.
Software applications such as WinRar and WinZip, can yield similar results if you decide to use them. Overall, most of the suggested steps can be applied to other applications as well, with minor changes.  The main difference between decompressing software consists of other optional features and by how much they can reduce the size of a file when they compress it.
How to Unzip Files on Windows 8, 8.1, 10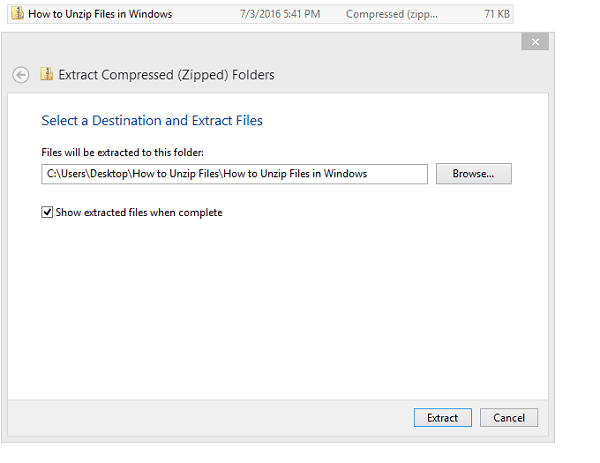 Microsoft has introduced native support for both zipping and unzipping files on Windows 8 and above. This new option facilitates the entire process of unzipping files for both casual and experienced users. The Windows integrated zip feature is incredibly simple and easy to use for anyone. It even allows you to access and select certain compressed files or folders without being required to first unzip them.
All you have to do to learn how to unzip a file on Windows using the native application is to follow the next steps:
Go to the destination of the compressed files or folders.
Double click the zipped file for a preview.
Open the right-click menu.
Select Extract all.
Choose the destination for the unzipped files.
Check the show 'Extracted files when complete box', if you want the destination folder to open automatically.
With that last step you have learned how to unzip files on the newest versions of Windows. You can, of course, use any third-party software you want, but Window's in-built decompression app is a quick and easy method anyone can use.
Conclusion
The two showcased methods on how to unzip files on Windows are the easiest ways to tackle decompression. As you get more familiar with this process, then you will want to use more advanced software that unzips files in a more efficient manner. We hope that our guide was helpful and feel free to check our other guides on various issues encountered by Windows users.