*This post may contain affiliate links. As an Amazon Associate we earn from qualifying purchases.


As a primary disclaimer, the Microsoft Band series was discontinued back in 2016. However, around this time, there were still multiple rumors that Microsoft was working on a 3rd version of the band series. A few lucky online blogs were able to get their hands on the Microsoft Band 3 prototype, Windows Central in particular.
While the prototype may not be hitting the streets soon, you will definitely want to know about the features it has if it ever sees the light of day.
1. Waterproofing
The Microsoft Band 2 was not a water-proof device. If you dropped it in the sink, toilet, or in any wet place, you would be pretty much out of luck. This has changed with the revelation that Microsoft Band 3 actively has waterproofing. This is incredible as it allows for even more forms of fitness tracking like swim tracking.
2. Two New Sensors
The Microsoft Band 2 had many sensors to track movement and weather including a barometer and gyrometer. The Band 2 that also came had an ambient light sensor, UV sensor, and skin temperature sensor. The Microsoft Band 3 increases the number of sensors the band series has by including electrocardiogram and RFID sensors.
3. Swimming Exercise Tracking
The inclusion of waterproofing and additional sensors also allows for greater well being and fitness tracking. The Microsoft Band 3 includes swimming exercise tracking. This is awesome as you can now figure out how your body is performing when you are doing laps in the pool.
You can track your pacing, the number of laps you complete in a pool, breaths per minute, and even heart rate. Tracking these statistics can help you increase your lap times and will give you data to show your doctor if you are worried about your health in terms of your performance.
4. Blood Pressure Tracking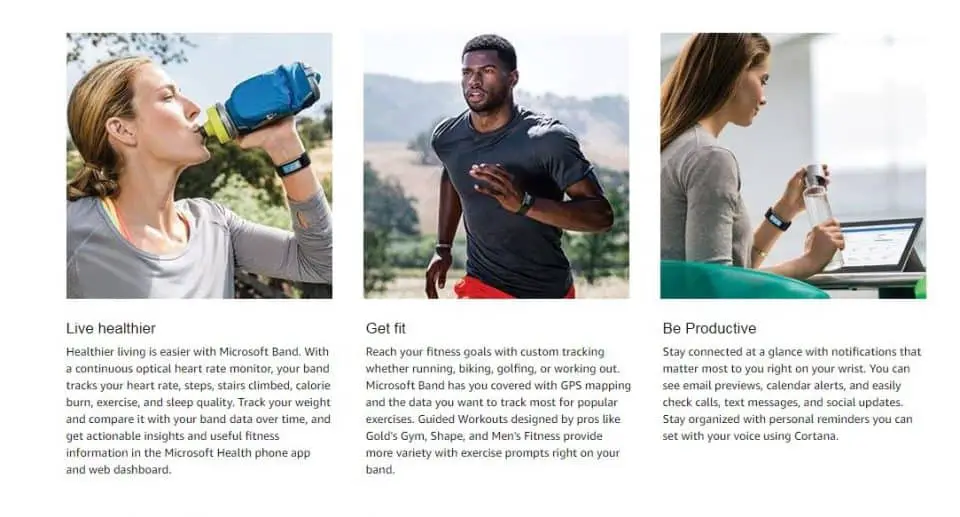 The Microsoft Band 3 uses the Electrocardiogram sensor to track blood pressure. Based on the blood pressure, the band can infer stress levels and internal body temperature. This is an incredible wellness tracking benefit as it can help with mindfulness meditations and can help the wearer keep calm.
Stress is considered a very high-level killer. Too much stress can lead to constipation, headaches, and can help onset various illness. The ability to check your stress levels with the Microsoft Band 3 is a welcome addition for wellness.
5. Durability
The Microsoft Surface Band series was known to have many issues with durability. There have been stories of individuals having the band for a month and breaking it due to random stress and pressure. According to the folks who have felt the Microsoft Band 3, it appears to have curves in the rubber band that are less pliable and sturdier than the rubber band on the Microsoft Band 2.
6. Design
The Microsoft Band 3 sports a slimmer band. Many who have reviewed the Microsoft Band 3 note how much more comfortable it is than the Microsoft Band 2. This is a welcome relief as Microsoft had to get this component right due to the number of complaints people gave to how uncomfortable the Microsoft Band 2 was.
 7. Upgrade Charging Time
You don't want to spend more time than you have to charge your Microsoft Band. The Microsoft Band 2 took around an hour and a half to charge. The Microsoft Band 3 brings this charge time down to a little under an hour. This will lessen the amount of time you have to wait for your band to fully charge.
There Are People Who Enjoyed the Band Series

There are definitely folks who love the Microsoft Surface Band and really want to see the series continued. This Change.org petition shows that there are over 1,000 people who wanted to see the band series continued. Hopefully, if there is a large enough market, Microsoft will continue to design the Microsoft Band series.
If you are interested, make your voice heard! Post about the Microsoft Band in public forums, on Reddit, and keep the buzz up around possible releasing the Microsoft Band 3. We live in an age where technologies like Twitter can allow you to get in contact with large organizations. With enough grass-roots buzz, maybe Microsoft will hear everyone's collective desire for the release of the Microsoft Band 3.
The Microsoft Band 3 Is An Overall Improvement
The Microsoft Band 3 is an overall improvement to the Microsoft Band series. It comes with waterproofing and two new sensors that allow for better blood pressure tracking and swimming exercise tracking. The Microsoft Band 3 also looks to have improved on its design by making it more comfortable for the wearer. The decreased charge time is also a welcome improvement for the Microsoft Band 3.