*This post may contain affiliate links. As an Amazon Associate we earn from qualifying purchases.
With the economy being as fragile as it is, as shown by the several financial crises through which we've gone over the past couple of decades, more and more people have been losing faith in the system. So, it should come as no surprise that bitcoins have been faring better than ever. In today's article, we will learn how to buy bitcoin with PayPal.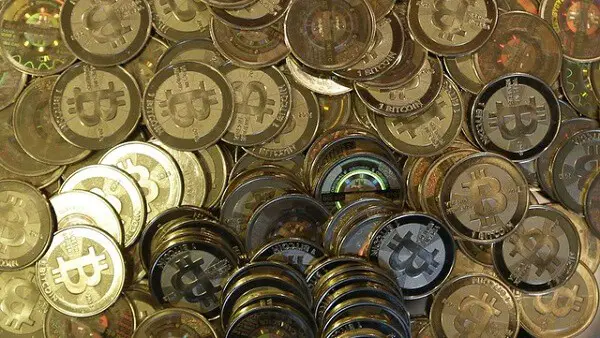 While it may sound counterintuitive to people less versed in the world of online currency, PayPal is actually one of the most difficult ways to get bitcoin. This is because of an inherent flaw in the PayPal system, which allows for very easy scamming when it comes to purchasing things such as bitcoins.
The problem is that while PayPal payments are generally reversible, the same thing cannot be said about bitcoins. This can leave many bitcoin sellers the victims of fraud, as buyers can claim that they didn't receive the bitcoins and cancel the transaction. This would leave them with both the money and the bitcoins, while the seller would be left with nothing.
So, the easiest, fastest, and most secure way to buy bitcoin with PayPal is via third-party services and websites. Some of these websites offer more secure transactions than others, while others require long verification periods. However, if you want to learn the answer to the question Where can I buy bitcoins with PayPal?, you have come to the right place.
How to Buy Bitcoins with PayPal via VirWoX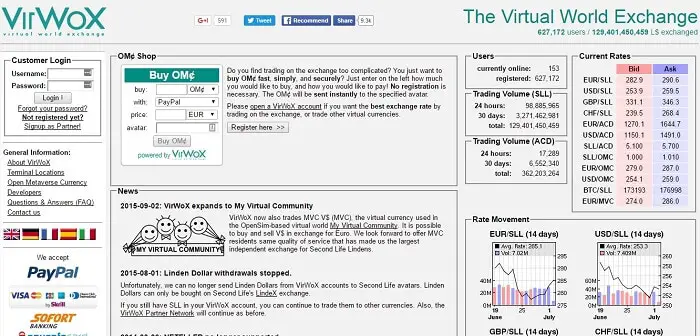 VirWoX, despite how complicated the steps will sound, is the easiest and overall most convenient way to buy bitcoin with PayPal. There is no way to buy bitcoin with PayPal instantly, so this is one of the fastest ways to do it. However, there are a few catches to buying bitcoins with PayPal via VirWoX. But we will cross those bridges when we get to them.
However, before we get started, I must make one disclaimer – the way to buy bitcoin with PayPal via VirWoX is by first purchasing Second Life Lindens with real-life currency, and then exchanging them for bitcoins. It may sound complicated, but even with the 9% fee, it's still the cheapest and easiest way.
1. Go to VirWoX and Create an Account
Go to VirWoX and click on Not registered yet? Type in your desired username and your e-mail address in the respective fields. If you already have an account, then you can skip this step. If you don't have a Second Life account or don't care about the step, you can just skip the next section.
Next, fill out the Personal Information section, write and remember your Terminal Identification Number, agree to the Terms of Service, fill in the Captcha, and click on the Register! button. Last, but not least, check your email and confirm the creation of your account.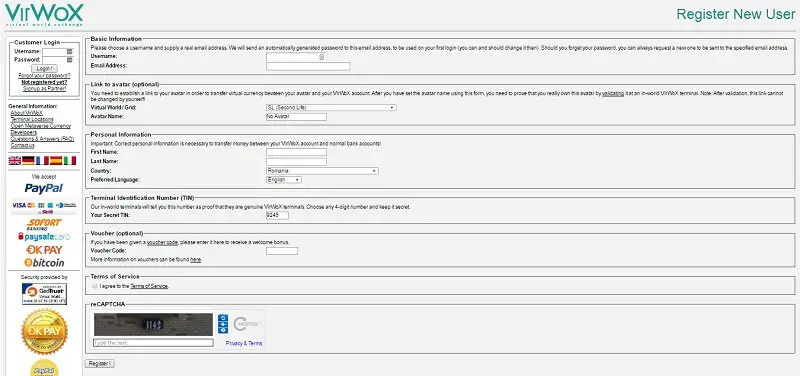 2. Change your Temporary Password
It's very important not to skip this step, or else you might end up with a deleted account. The temporary password expires after 24 hours, and the website automatically deletes your account after that period. Here is what you have to do to change it.
Log into VirWox with the temporary password. Look at the sidebar on the left side of the screen and click on Change settings. Enter a very secure password in both fields, and make sure to remember it. You are potentially dealing with a lot of money, so you should be very careful.
3. Deposit Money from your PayPal Account
Look at the sidebar on the left-hand side of the screen for the Deposit option. Wait for the page to load, and scroll down until you find the PayPal Express Checkout section. Enter the amount of money you want to convert into bitcoins in the field next to I want to deposit. Log into your PayPal account to confirm the transaction.
Next, you should follow PayPal's instructions to be done with this step. You should also check out your balance, as you may find less money in your account than you technically should. This is because of PayPal charging a 2.9% + $.30 fee for every deposit. This is just another one of the reasons why people generally avoid buying bitcoin with PayPal.
4. Trade your currency for Second Life Lindens
After completing the previous step, go to the sidebar once more and click on either EUR/SLL or USD/SLL, depending on your currency. In the Exchange *currency* to SLL subsection, introduce the amount of money you want to use to buy bitcoin with PayPal. Click on Next and wait for the next page to load and for the transaction to process.


5. Trade Second Life Lindens for Bitcoins
Once again, in the sidebar on the left-hand side of the screen, click on BTC/SLL. Just like in the previous step, insert the amount of bitcoins you want to buy and click on Next. And that's it. Your transaction is pretty much over now.
All you have to do is to check your Account Balance at the top left-hand side of the screen. Next, you should transfer your newly acquired currency to your bitcoin wallet. You can then convert your bitcoins to actual currency via any bitcoin ATM.
The biggest problem people run into when trying to buy bitcoin with PayPal is that it's impossible to do directly because of the many fraud opportunities. This is why the initial conversion Second Life Lindens makes the transaction so much simpler. However, if you want a more direct way to buy bitcoin with PayPal, you can try LocalBitcoins; it's quicker, but also far riskier.
How to Buy Bitcoin with PayPal via LocalBitcoins

While it may not be the best place to buy bitcoin with PayPal, LocalBitcoins offers the widest selection of sellers on the internet. The best part about the service is that it offers many sellers in your immediate area. You can even meet the sellers personally to make sure that they are reliable sources. Plus, you get your bitcoins much faster than through other options.
Meanwhile, the worst part is probably that the website presents very high fees and a bigger chance that you are going to get scammed. Still, it is the second best place to buy bitcoin with PayPal on the internet.
1. Go to LocalBitcoins and Create an Account
Go to LocalBitcoins and sign up for a new account. For this, you have to first click on the big, green Sign up free button. Fill in the empty fields, selecting a username and password you'll remember. Verify that you are not a robot and click on the green Register button. Next, verify your email and confirm the creation of your account.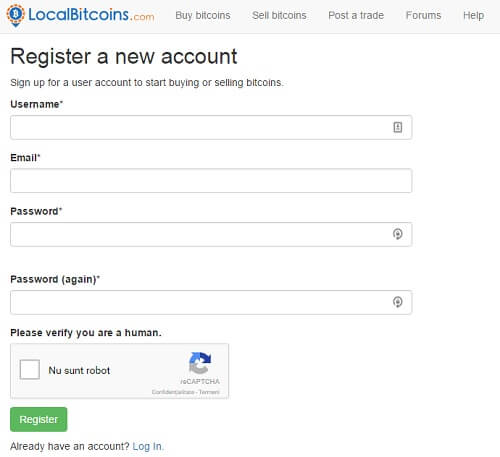 2. Start Entering your Search Parameters
Go back to the main page of LocalBitcoins. Select the Quick Buy tab. Fill in the four fields – the amount of money you want to be converted to bitcoins, the currency you have on your PayPal account, your country of residence, and your method of payment (in this case, PayPal). Next, click on Search.
3. Select your Seller from the List
Now comes the most complicated part about how to buy bitcoin with PayPal via LocalBitcoins. You have to make sure that you choose the most trustworthy and convenient bitcoin provider. For this, you have to check out a number of things related to their profiles.
The three most important things you have to take into account when choosing the most appropriate seller are the user's trade limits, feedback score, and their payment window. The feedback score is located under the seller's name, and the best thing you could do would be to only conduct transactions with the sellers with the highest feedbacks.
As for the trade limits and the payment window, each seller has a maximum and a minimum amount of bitcoins they are willing to trade. You also have to take that into account before deciding on the seller, as well as how much time you have to pay them after initializing the transaction. The user's terms of trade are also pretty important and should be checked out on their profile.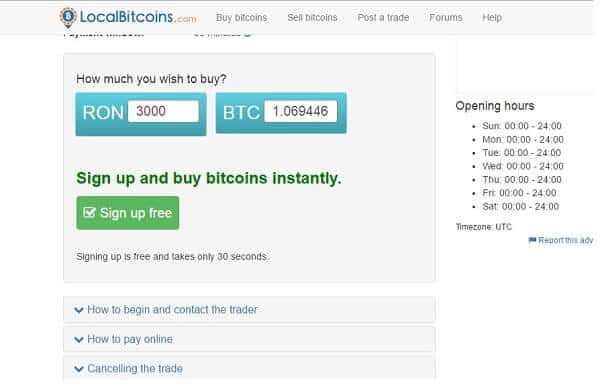 4. Complete the Purchase
Now that you're satisfied with the seller you've picked, we can move on to actually buy bitcoin with PayPal. All you have to do is to fill out the empty field in the blue box on the left, all while looking at the bitcoin conversion rate in the blue box on the right.
All that's left now is to click on the Send Trade Request button, and you're done. You now know exactly how to buy bitcoin with PayPal using the LocalBitcoins platform.
Of course, there are other options, such as Cryptonit or Circle, or even better – not using PayPal to buy your bitcoins. However, VirWoX and LocalBitcoins are definitely the go-to sites if you want to buy bitcoin with PayPal. We hope that our tutorial has managed to help answer some of your questions and teach you how to buy bitcoins with PayPal. Until next time, browse safely!
Image sources: 1, 2, 3