*This post may contain affiliate links. As an Amazon Associate we earn from qualifying purchases.
There is a large variety of tune-up utilities ready to help you maintain the performance of your PC or Mac. Today we will review CCleaner for Mac, one of the most popular and simple cleaning tools. Our review is based on what service plans it offers and at what price as well as on the main features and overall performance of the software.
Service Plans
CCleaner  for Mac is developed by Piriform, which only offers two types of service plans for this particular software: Free and Professional. See the specific features and price of each plan in the following side-by-side comparison.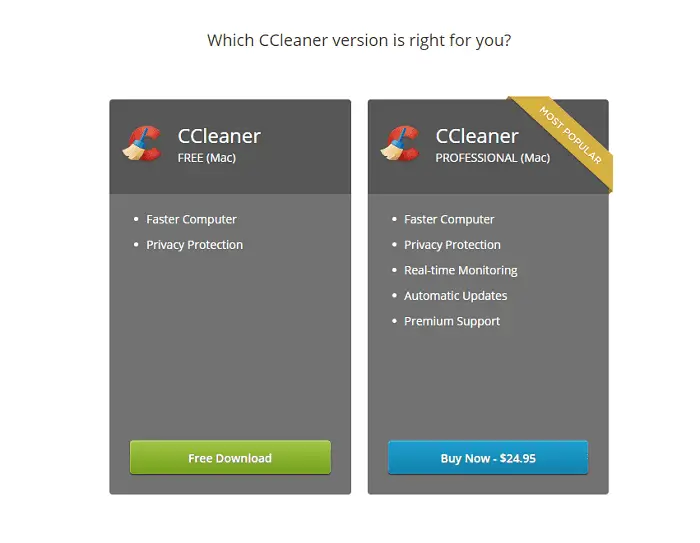 If you are new to the world of tune up software solutions, or you just don't need any advanced features, then we recommend downloading and installing CCleaner Free (for Mac). Before doing so, it's important to know that CCleaner requires an Apple Mac running 64-bit OS X 10.6 to 10.11 El Capitan. If you are up to date with all updates from Apple, then you should meet this requirement.
We recommend buying the professional edition of CCleaner for Mac only if your device requires constant performance monitoring and maintenance. At $24.95, CCleaner is cheaper than other alternative cleaning software like AVG TuneUp because it doesn't offer any personalization options or advanced features.
Features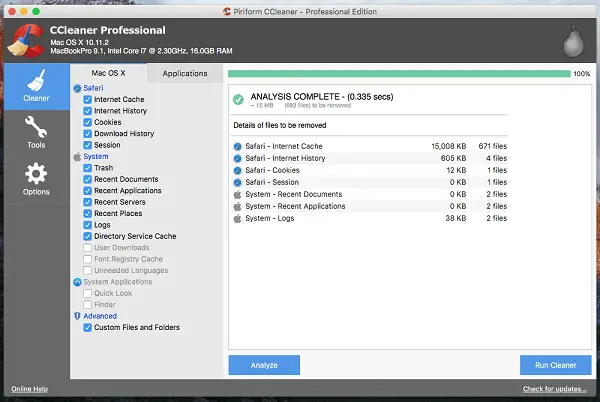 CCleaner for Mac is slightly
more simplistic
than other equivalent cleaning tools. It does not have a large variety of advanced features like automatic maintenance, monitoring the health of your device and modifying Mac OS settings. However, its simplicity is also a benefit for users who only require a
minimalistic clean up solution
. In this regard, CCleaner for Mac does not disappoint thanks to the following features:
Faster Computer: find and remove junk and unused files to improve the speed of your Mac. It also provides options to manage your startup apps for faster booting.
Reduce Clutter: clear the recycle bin, temporary folders and files, broken permissions and more. Simplifies software removal with in-built
Safer Browsing: erase your browser search history and cookies for increased privacy on the internet.
Full customization: offers increased flexibility regarding the cleaning of your Mac. Users can target specific areas of their MAC, include or exclude custom folders and files, and even choose what cookies to delete or keep.
Automatic Browser Cleaning: users can set dates and intervals for CCleaner to clear your browser history and cookies.
Real-time Monitoring: select specific areas or your entire Mac to be constantly monitored for clutter and used space.
Performance
The performance of CCleaner for Mac depends on how often and how intensively people use their laptop or desktop. There is no point in running CCleaner on a new machine since it won't have any clutter to remove, browser history to clear and it can't improve the speed of your Mac. We recommend installing the software only if you noticed that the speed and boost time of your Mac have become increasingly slower, or you see more space being used unintentionally.
However, if you install CCleaner after a long period in which you haven't cleaned your Mac, then you're sure to see  improvements in boot times and in the duration of file transfers. Apps and other software will also perform better as your Mac won't freeze or get errors as often. You will also have more hard drive space available thanks to the removal of junk or unnecessary files.
CCleaner for MAC Review Verdict
Overall, CCleaner for Mac is an excellent choice for inexperienced users if they want to clean and optimize their Mac. It mostly performs as advertised when it's installed on relatively old laptops or desktop systems. The simplistic interface coupled with a generous number of features even on the free version, make CCleaner for Mac a great tune up utility for both inexperienced and advanced users.