*This post may contain affiliate links. As an Amazon Associate we earn from qualifying purchases.
Google Play Service gives you access to all your Google content, including the latest apps, books, movies, and more on your Android device. Ensuring that Google Play is up to date is essential for making sure you have the most recent listings. The following helpful guide will provide you all the steps you need to take to successfully perform Google Play Services update on your device.
How to Update Google Play Services in 6 Easy Steps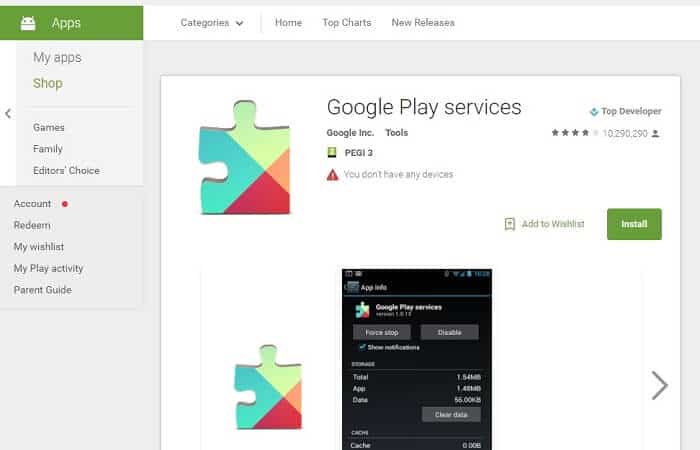 You can easily access a Google Play Services update for your device from any computer, laptop, or any other Internet-enabled device. This process will require your Google login credentials. The following steps will guide you through pushing a Google Play update to your device from the Internet:
Navigate to Google Play services in your web browser.
Login with your Google username and password when prompted. If you are already logged in, Google will prompt you to re-enter your password.
Click the blue Sign in button.
Click the green Installed button.
Select your device from the Choose a device drop down menu.
Click Install to send the most recent version to your device.
How to Update Google Play Services on a Mobile Device in 3 Easy Steps
Getting the Google Play Services update is even easier on your Android device. Google Play updates automatically on most devices without requiring any user interaction. To ensure you are using the most updated version of Google Play, take the following steps:
Launch Google Play on your mobile device by tapping the icon.
Provide your Google username and password information if prompted.
Choose Update if prompted. The device should update Google Play automatically.
With this clear and concise guide, you have all the instructions you need to update Google Play Services. If you run into any issues, ensure you are using the correct login credentials. You can also visit Google Play Help online for troubleshooting steps and answers to frequent user questions. Feel free to ask additional questions or share your experience in the comments section.